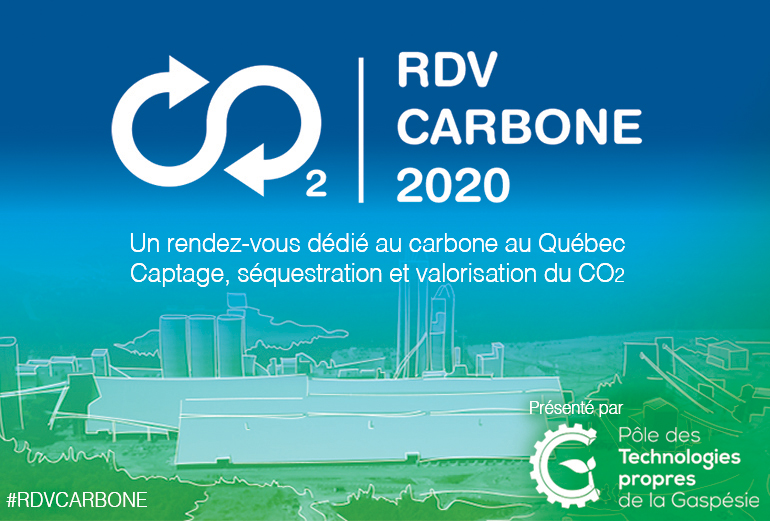 A first conference focusing on carbon capture and use
Climate change is of increasing concern to the planet, and carbon dioxide emissions have been identified as one of the main causes — there is no denying it, we need to act now to reduce our emissions. The Gaspésie Clean Technologies Hub, which is working in conjunction with Ciment McInnis to establish an industrial symbiosis, is proud to present this conference focused on carbon and its uses.
This symposium will focus on efforts made to date by the McInnis cement plant to reduce its GHG emissions, while also highlighting international and local businesses striving to capture and use CO2. This conference is aiming to become the reference point for the field of carbon in Quebec.
Presentations in French (except exceptions mentioned in the official program), check the schedule on the Hopin platform.
The conferences in French will be simultaneously translated into English, an explanatory email will be sent to the participants.
Indigenous blessing
Statement of recognition & introductory remarks
 BLOCK 1 BACKGROUND INFORMATION ABOUT CARBON
Opening Address
Denis Leclerc, CEO, Écotech Québec
The Mission of Gaspésie's Clean Technologies Hub
Guy Pardiac, Managing Director
McInnis Cement's Commitment
Maryse Tremblay, Director of Communication and Corporate Social Responsibility
Innofibre's Industrial Symbiosis Project
Nathalie Bourdeau, Research Scientist
BLOCK 2 — CONTEXT
Carbon accounting by CCG
Decarbonizing an Investment Portfolio
Denis Dion, Responsible Investment Product Manager, Desjardins Investments Inc.
Making Sense of Money
Claire Bisson, Assistant Chief of Impact Investment, Fondaction
BLOCK 3 – FINANCING INNOVATION
Funding Innovation
Guillaume Beaudet, Performance Monitoring Lead, Sustainable Development Technology Canada (SDTC)
Hudovic Meilleur, Transition Énergétique Québec (TEQ)
Hélène Fortier, Program Administrator, Natural Sciences and Engineering Research Council of Canada (NSERC)
Daniela Bernic, Innovation and Business Development Advisor, Quebec consortium for industrial bioprocess research and innovation (CRIBIQ)
BLOCK 4 — CARBON CAPTURE
Demonstration of CO2 capture technology – by Jörg Hammerich, IKN GmbH (Germany)
HSE friendly carbon capture technology available today by Jon Christopher Knudsen, Senior Commercial Director, Aker Carbon Capture (Norway)
Demonstration of CO2 capture technology (in English) by Shell Catalyst (Netherlands)
Demonstration of CO2 capture technology by Richard Surprenant, Saipem (Italy)
Capturing, storing and recovering CO2 in mineral form by Louis-César Pasquier, Assistant Professor, National Institute for Scientific Research (INRS) (Canada)
Demonstration of a CO2 sequestration technology by Mathieu Lavoie, Engineer, Fortop Services (Canada)
BLOCK 5 — CO2 UTILIZATION
INERATEC (Germany)

Valorisation Carbone Québec – A Unique Demonstration Platform
Louis Fradette, Head of the Chemical Engineering Department, École Polytechnique de Montréal (Canada)
Green Hydrogen to Exploit Carbon
Cyril Dufau-Sansot, CEO, Hy2Gen Canada Inc. (France)
The Future of Sustainable Fuel for Civil Aviation
Jean Paquin, President, SAF+ Consortium (Canada)
Esteban Chornet, Co-Founder and Director Emeritus, Enerkem Inc. (Canada)
NETWORKING AND BOOTHS

Presale (virtual event) – early birds
$ 325 (without taxes)
Take advantage of our back-to-school rate until September 18, 2020!
This ticket will give you access to the virtual event
Regular ticket (virtual event)
$ 375 (without taxes)
This ticket gives you access to the virtual event
Regular ticket (in physical presence at the Center des congrès de la Gaspésie)
$ 450 (without taxes)
Some places are available to come and join us at the Gaspésie Convention Center in Carleton-sur-Mer.
Do to COVID, this option may change, please contact us
This ticket includes virtual programming, access to the studio (in distance mode 3 per table), cafes, dinner and an end-of-day cocktail.
Accommodation extra.
THANK YOU!
WITH SPECIAL THANKS TO:
MINISTÈRE DE L'ÉCONOMIE ET DE L'INNOVATION 
NATURAL SCIENCES AND ENGINEERING RESEARCH COUNCIL OF CANADA (NSERC)
INNOFIBRE
MCINNIS CEMENT
DESJARDINS
TRANSITION ÉNERGÉTIQUE QUÉBEC (TEQ)
AGENCE-CONSEIL MCBRIERE
AND…