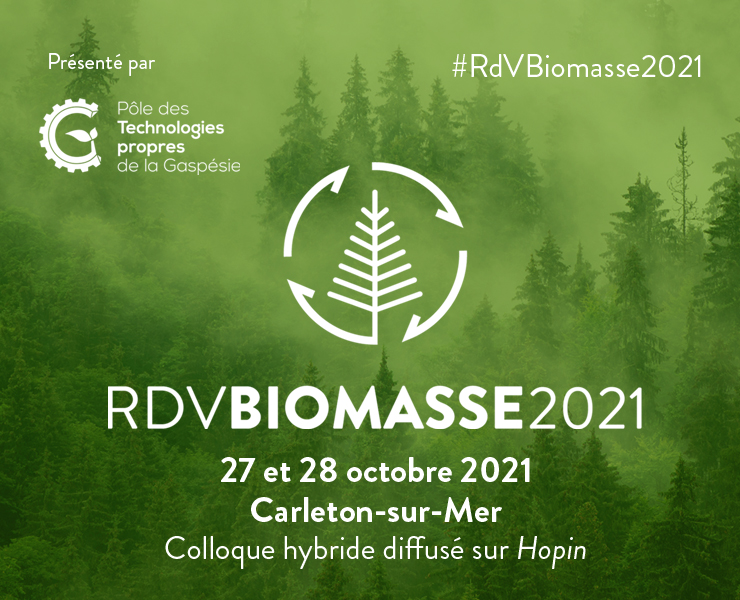 Rendez-vous Biomasse 2021 – Symposium on forest biomass and its uses – Save the date!
A two-day event on forest biomass and its uses, in hybrid format (in person and online), broadcast from Carleton-sur-Mer via the Hopin platform
October 27 and 28, 2021
More details about the event and registration via Hopin 
This event will be held primarily in French, but international speakers will present in English.
Since 2018, the Pôle des technologies propres de la Gaspésie (Cleantech Cluster) has been working to implement solutions aimed at reducing GHG emissions from the McInnis cement plant (Port-Daniel, Quebec) by implementing an industrial CO2 symbiosis and developing the potential for upgrading forest biomass.
In addition to the work on the capture and transformation of CO2, the Pôle also focuses on the valorization of forest biomass as an alternative fuel in different economic sectors (fisheries, agrifood, forestry, etc.) in order to "green" their activities and consolidate the regional forest industry.
An alternative fuel is a fuel that replaces energy generated from fossil sources (eg diesel, coal, petroleum coke).
In this aspect of valuing forest biomass, this international conference aims to highlight best practices in applied research and to present innovative projects for the use of forest resources.
Objectives of the conference
Bring together the leading Quebec practitioners of the forest biomass valorization industry
Discover many potential uses of forest biomass as a decarbonization and GHG reduction agent
Highlight companies in Quebec and internationally that work on forest biomass development projects
Share the current knowledge of various experts in the field
Presentations from various businesses and organizations from Quebec, New Brunswick and Europe involved in valuing forest biomass in various forms.
Profile of expected attendees
Forest industries
Bio-based materials companies
Bioenergy equipment manufacturers
Stakeholders and municipal leaders
Economic development officers
Researchers
Infrastructure managers
Specialized media
…
Prices
Book early and take advantage of the "Early Bird" discount
EARLY BIRD RATES
Until September 26, 2021
Online via Hopin: $ 325 + fees
In person in Carleton-sur-Mer: $ 495, meals included, room extra
Book your room directly at the Gaspésie Convention Center (Hostellerie Baie Bleue)
Code: colloque RDV Biomasse
Room rate: $ 119 + taxes
REGULAR RATES
Starting September 27, 2021
Online via Hopin: $ 375 + fees
In person in Carleton-sur-Mer: $ 575, meals included, room extra
Book your room directly at the Gaspésie Convention Center (Hostellerie Baie Bleue)
Code: colloque RDV Biomasse
Room rate: $ 119 + taxes
More information
Pôle des technologies propres de la Gaspésie
Guy Pardiac, General Manager
Telephone: 418-391-1417
Email: gpardiac@technologiespropres.com
Facebook – Twitter – LinkedIn – Youtube